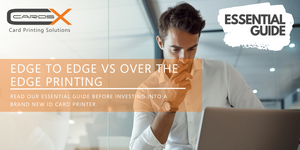 What is The Difference Between Edge-To-Edge and Over-The-Edge Printing?
It's important to understand the differences between an edge-to-edge printer and over-the-edge machine, before you invest in a plastic card printer. The simplest difference is that an edge-to-edge printer leaves a plain border on the card, whilst an over-the-edge printer leaves no border at all.
The appearance of your card's border is a key consideration but there are many more variables than this. That's why we've put together a complete guide to break down the key advantages and disadvantages of ETE and OTE printers. By the time you've read this, you'll have a much clearer picture on the type of card printer that is right for your business.
What is Edge-To-Edge Printing?
Edge-to-Edge is a type of card printing performed by a direct-to-card (DTC) printer. This is the most popular type of plastic card printer. The reason for this is that DTC printers are generally both cheaper and faster than the retransfer machines that are capable of printing over-the-edge of cards.
The printhead of a DTC printer prints your design directly onto the card. It could easily damage the printhead if it were to print right up to the sharp edge of the plastic. Therefore, the print process is designed to leave a plain border around each side of the card, in order to prolong the life of the printer.
When you see a white border, what you are essentially seeing is the colour of the card itself. So if you were printing onto black cards, the colour of this border would instead be black.
What are the pros and cons of edge-to-edge printers?
Advantages of an edge-to-edge printer
Price – ETE printers are generally more cost effective than a retransfer printer, (which can print over-the-edge cards). This makes them the ideal choice if you're on a limited budget.
Speed – ETE printers can also print each card up to 10 seconds faster than retransfer models. This is because they don't have to perform the two-step printing process or film heating function of a retransfer printer.
Small footprint – You will save space on your desk by investing in a ETE printer. This is because they are typically smaller and are made up of less components.
Ribbon options – ETE printers allow you more flexibility when it comes to coloured ribbon options. You can even order ribbons in metallic colours like silver and gold.
Disadvantages of an edge-to-edge printer
Limited card materials – Direct to card printers are not suitable for printing onto any other material but PVC. So they cannot print onto smart or proximity cards.
Lower print quality– ETE printers are unable to meet the print quality of a retransfer machine. This could be an issue if, for example, you're attempting to exact match corporate colours on your cards.
Lack of security features – ETE printers cannot print visual security elements unless you purchase additional hardware, such as a laminator unit or special ribbons.
Lower volume production – ETE machines are not designed for large volume card printing required in environments such as a service bureau.
What is Over-The-Edge Printing?
Over-the-edge printers are more commonly referred to as retransfer ID card printers. Instead of printing directly onto plastic cards, these printers use a more sophisticated two-step print process.
The ID card design is instead printed onto a clear layer of film, which is then fused to the card itself using heat and pressure. The image on the film is bigger than the card itself so the design covers the whole of its surface. This means that there are no white spaces left around the edges of the printed card.
Retransfer printing technology offers a superior print quality, which is ideal for producing large volumes of high security ID cards. 
What are the pros and cons of over-the-edge printers?
Advantages of an over-the-edge printer
No plain border – The two-step print process of an over-the-edge printer gives you the ability to print on every last millimetre of your card surface.
Superior print quality – Retransfer ID printers create high-definition designs on your card, which is a higher quality than the finish DTC printers can offer.
Prints on all card types – Printing onto a film instead of directly onto the card not only makes your cards more durable. It also allows you to print onto a range of materials including PVC, ABS, PET and polycarbonate.
High security – A superior 600 dpi print means that you can use sophisticated visual security elements, such as microtext, to strengthen the card's security.
Disadvantages of an over-the-edge printer
Slower speed - Because of the sophistication of the retransfer technology, the print process can take much longer per card compared to DTC printers.
Higher budget required - Retransfer printers are almost double the price of DTC card printers. The same can be said about consumables required for printing.
Cards can bend – Some of the better retransfer printers have a "card flattener" built in to ensure cards keep their shape after the heating process. However, in other OTE printers, cards have been known to bend.
Limited consumables - For most retransfer printers, it's not possible to use different monochrome ribbons. These allow more creativity for text personalisation and line art.
Edge-to-edge VS over-the-edge applications
Whether your business requires a ETE or OTE printer will depend largely on the function of your plastic cards. We've summarised below the most common applications for each type of printer.
Edge-to-edge DTC card printers
Students IDs – Schools, colleges and universities are often required to print up to 20,000 staff and student ID cards every year. A high spec DTC printer is usually sufficient for this purpose.
Staff IDs – Organisations in various sectors often have a requirement for issuing ad hoc ID cards to new and retained staff members throughout the year and a DTC printer is ideal for this purpose.
Loyalty cards – Plastic cards carrying fully branded marketing promotions are much more likely to be retained than paper alternatives. DTC printers can efficiently fulfil ad hoc requirements for new promo cards.
Membership cards – Organisations such as gyms and health clubs use DTC printers to issue their members with a photo ID, which can be shown to staff to admit entry.
Over-the-edge retransfer card printers
Government IDs, bank cards and licenses – A superior print quality and lamination feature are vital for the lifespan of these documents. Sophisticated security elements also ensure cards cannot be counterfeited.
Service bureaus IDs - Service bureaus resell ID cards to all manner of businesses and are often required to print in large volumes. A retransfer printer gives them all the options they require to offer all types of cards.
Event passes – Those involved in supplying world renowned events such as Wimbledon and Formula 1 require a premium level of quality when issuing ID cards to VIPs and high-profile sportspeople.
Access control cards– RFID, NFC and contactless cards require a retransfer printer. The printhead does not directly touch the card so there's no chance of damaging it.
Recommended ID Card Printers
Our bestselling DTC and retransfer printers below are produced by the world's most trusted card printing brands. Manufacturers such as Matica, Zebra and Evolis are used by all manner of organisations across the globe. For a more detailed list of our recommend printers, please take a look at Top 20 ID Card Printers Of 2021 guide.
Bestselling edge-to-edge DTC printers
Bestselling over-the-edge retransfer printers
Need more advice?
Contact us – Our friendly team of experts are on hand to provide more guidance on the different ID printers available. Drop them a line for a no-obligation chat on your requirements.
ID Card Printers - Browse our wide selection of ID card printers. We have assembled only the finest of machines from the world's most trusted brands.
How much does a card printer cost? – Read our guide to printer prices and learn about the features of a printer that have the biggest impact on overall machine and running costs.
Choosing the right ID printer ribbon – Take a look at our printer ribbons guide, which explains how to choose the right consumables for your card printer.
Where to print ID cards? - In what scenario should you invest in an ID card printer and when does it make more sense to commission a printing service?
Need more advice?
Andy has over 20 years of experience in the security and ID printing industry. He is Managing Director of Cards-X (UK), a trusted UK distributor of ID card printers.
Cards-X offer a comprehensive selection of printers from the world's finest manufacturers, as well as a low-price promise across our range. We can also offer a next day delivery service and free delivery on all orders over £250.
---