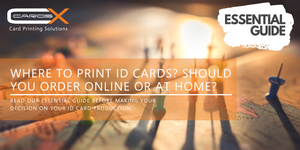 Where to Print ID Cards? Should You Order Online or Print at Home?
Are you in need of some printed ID cards but unsure where to start? The biggest thing to consider is whether to invest in your very own ID card printer or get your ID cards printed by a third party.
Plastic card printing is considered by many to be a very specialised service. So it may come as a surprise how easily and cheaply printing ID cards at home can be. Commissioning a specialised printer will still be the best option for some. However, for the majority of businesses, purchasing a machine for printing plastic ID cards is the best investment in the long term.
Where can I get ID cards made?
ID printing specialists such as ourselves have a department for printing our client's cards using our own machines. Contacting our team for a quote on your requirements is one option. The other option is to purchase your very own printer, to use in the comfort of your own home or office.
Printing ID cards from your own home or workplace
Entry level ID card printers are available to purchase from as little as £550. Whilst retransfer printers start at £1,495. The latter typically provide a higher level of quality and security and the ability to print on both sides of the card.
Investing in your own ID card printer is usually the best option if you are planning on issuing cards on a regular basis. The main advantages to "do it yourself ID cards" include:
Instant issue – There's no waiting time for your cards. You simply print them when they are needed and issue them to your staff or customers the same day.
Cheaper cost per print – The cost per printed card is so much cheaper than outsourcing your work. Although, you do have to factor in the initial cost of the printer and the running costs of your machine.
Flexibility – You can easily test, amend and change the design of your plastic card yourself, without incurring a design charge from your chosen printing company.
Get ID cards printed by a specialist printer
Getting your plastic ID cards printed by a specialist company such as ourselves is the best option in the following scenarios:
You have a small one-off requirement, consisting of less than 100 ID cards.

You require a full end-to-end printing and mailing service with ID cards enclosed in letters to the recipients.
The benefits of commissioning a third party to print your plastic cards include:
Design expertise – Whether you require ID cards, gift cards, access cards or discount cards, the experts know the designs that work best. So you can be assured of a professional card that does the job it was intended for.
Extra features – Our team have a complete set of hardware at our disposal, including the most sophisticated ID printers on the market. So we can apply finishing touches to your cards such as embossing and metallic foil. Plus, additional visual security features such as holograms and microprint can be printed.
A one stop shop for campaigns – If you require printed plastic cards as part of a promotional campaign, our team can also provide other items such as printed lanyards. We can also supply card holders for use with your printed ID cards.
Recommended ID printers
Entry level printers – These are perfect for small businesses looking for a highly affordable solution.
Bestselling printers – It speaks volumes when so many other businesses are snapping up particular printer models.
Best high security printers – This range of printers offer the most cutting-edge security features.
Need more advice?
Contact us – Each member of our friendly team has a vast amount of knowledge on the topic if ID card printing and would be delighted to offer you some no-obligation advice.
The Top 20 ID card printers of 2023– Struggling to decide on which printer is right for you? A great place to start is our list of the best ID printers of 2023.
What is Edge-To-Edge and Over-The-Edge printing? – This guide breaks down the difference between ETE and OTE printers and why this is a key consideration for buyers.
About Andy Reeves and Cards-x
Andy has over 20 years of experience in the security and ID printing industry. He is Managing Director of Cards-X (UK), a trusted UK distributor of ID card printers.
Cards-X offer a comprehensive selection of printers from the world's finest manufacturers, as well as a low-price promise across our range. We can also offer a next day delivery service and free delivery on all orders over £250.
---